Hylobatidae
Gibbons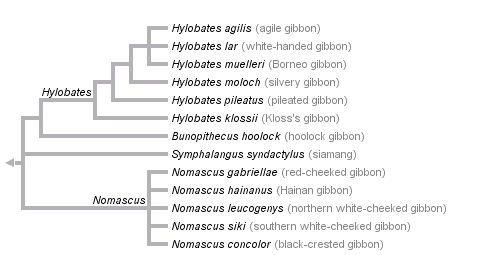 This tree diagram shows the relationships between several groups of organisms.
The root of the current tree connects the organisms featured in this tree to their containing group and the rest of the Tree of Life. The basal branching point in the tree represents the ancestor of the other groups in the tree. This ancestor diversified over time into several descendent subgroups, which are represented as internal nodes and terminal taxa to the right.

You can click on the root to travel down the Tree of Life all the way to the root of all Life, and you can click on the names of descendent subgroups to travel up the Tree of Life all the way to individual species.
For more information on ToL tree formatting, please see Interpreting the Tree or Classification. To learn more about phylogenetic trees, please visit our Phylogenetic Biology pages.
close box
Phylogeny from Purvis (1995).
References
Brandon-Jones, D., Eudey, A. A., Geissmann, T., Groves, C. P., Melnick, D. J., Morales, J. C., Shekelle, M., and Stewart, C. B. 2004. Asian primate classification. Int. J. Primatol. 25: 97–164.
Chatterjee, H. J. 2006. Phylogeny and biogeography of gibbons: A dispersal-vicariance analysis. International Journal of Primatology 27(3):699-712.
Garza, J. C., and Woodruff, D. S. 1992. A phylogenetic study of the gibbons (Hylobates) using DNA obtained noninvasively from hair. Mol. Phylogenet. Evol. 1: 202–210.
Geissmann, T. 2002. Taxonomy and evolution of gibbons. In Soligo, C., Anzenberger, G., and Martin, R. D. (eds.), Anthropology and Primatology into the Third Millennium: The Centenary Congress of the Zόrich Anthropological Institute (Evolutionary Anthropology Vol. 11, Suppl. 1). New York: Wiley-Liss, New York, pp. 28–31.
Groves, C. P. 1972. Systematics and phylogeny of gibbons. In Rumbaugh, D. M. (ed.), Gibbon and Siamang. Vol. 1, Karger, Basel, pp. 1–89.
Haimoff, E. H., Gittins, S. P., Whitten, A. J., and Chivers, D. J. 1984. A phylogeny and classification of gibbons based on morphology and ethology. In Preuschoft, H., Chivers, D. J., Brockelman, W. Y., and Creel, N. (eds.), The Lesser Apes. Evolutionary and Behavioural Biology. Edinburgh University Press, Edinburgh, pp. 614–632.
Hall, L. M., Jones, D., and Wood, B. 1998. Evolution of the gibbon subgenera inferred from cytochrome b DNA sequence data. Mol. Phylogenet. Evol. 10(3): 281–286.
Hayashi, S., Hayasaka, K., Takenaka, O., and Horai, S. 1995. Molecular phylogeny of gibbons inferred from mitochondrial DNA sequences: Preliminary report. J. Mol. Evol. 41: 359–365.
Purvis, A. 1995. A composite estimate of primate phylogeny. Philosophical Transactions of the Royal Society of London (Series B), 348:405-421.
Tyler, D. E. 1993. The evolutionary history of the gibbon. In Jablonski, N. (ed.), Evolving Landscapes and Evolving Biotas of East Asia Since the Mid-Tertiary. Centre for Asian Studies, Hong Kong University, pp. 228–240.
Zehr, S., Ruvolo, M., Heider, J., and Mootnick, A. 1996. Gibbon phylogeny inferred from mitochondrial DNA sequences. Am. J. Phys. Anthropol. (Suppl) 22: 251.
Information on the Internet
Hylobatidae. University of Michigan Museum of Zoology Animal Diversity Web.
About This Page
Page copyright © 1999
Content changed 30 November 2007
Citing this page:
Tree of Life Web Project. 2007. Hylobatidae. Gibbons. Version 30 November 2007 (temporary). http://tolweb.org/Hylobatidae/16300/2007.11.30 in The Tree of Life Web Project, http://tolweb.org/
edit this page